2018 Showcase Exhibitors
RPA's Annual Showcase is THE event to attend if you do business in the world of retail packaging. 2018's Showcase will feature more than 50 suppliers and if you are a professional involved in the production and distribution of retail packaging products including boxes, bows, bags, tissue, wrapping paper, tape, and more, this annual event is a MUST ATTEND!
Please note that booths are available to RPA members ONLY and your annual dues are due at time of registration. If you have questions regarding your RPA membership, please contact Amy Luckado at aluckado@retailpackaging.org.
If you have any questions about RPA's Showcase, please contact Molly Alton Mullins at mmullins@retailpackaging.org or call 410-940-6360.
CLICK HERE FOR A LARGE VIEW OF THE EXHIBITOR FLOOR PLAN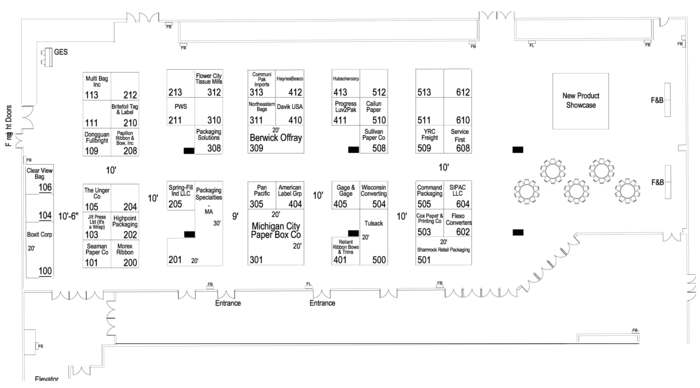 2018 Booth Cost, Specs & Registration:
One Booth

First 10' X 10' Space: $2,200

Two Booths

Two 10' X 10' Spaces: $3,600

Three Booths

Three 10' X 10' Spaces: $5,000

Four Booths

Four 10' X 10' Spaces: $6,400

Each Booth Includes:
6' Draped Table,
Waste Basket,
Chairs,
ID Sign,
And up to three registrations for each booth purchased
Review the Showcase Floor Plan to choose your available table top. Include your top three choices on your Table Top Registration Form. Assignments are made on a first come first serve basis after full payment is received.
Each booth registration includes three attendee registrations (double booth - six attendees, etc.). After completing your Table Top Registration Form, you will be directed to the Attendee Registration Form. Be sure to choose Exhibitor's Prepaid Staff under registration fee for the appropriate number of attendees. Any additional attendees over the three attendees per booth will need to pay the appropriate registration fee.
GES (Global Experience Specialists) is the official RPA Conference & Showcase exhibition company for all of your booth needs.
2018 RPA Conference & Showcase Exhibitors