Today at RPA
REGISTRATION IS OPEN!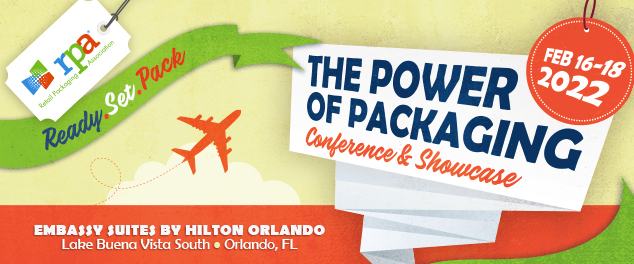 READY. SET. PACK! The Retail Packaging Association is elated to meet in person next year at the Power of Packaging, Conference & Showcase. The RPA will host the Conference on February 16-18, 2022 in Orlando, Florida at the Embassy Suites by Hilton Orlando Lake Buena Vista South. Registration is officially OPEN!
If you have any questions, comments, or concerns, you can contact us at info@retailpackaging.org or the RPA Events Manager, Maria Koustenis at mkoustenis@retailpackaging.org.
Important Dates:
Early bird registration will end on Friday, December 31, 2021
Hotel reservations will close on Monday, January 31, 2022
Conference & Showcase begins on Wednesday, February 16, 2022


---
Advertisement Opportunities with RPA
Since we didn't have the opportunity to meet in person at RPA's Conference this year, finding ways to reach your customers is more important than ever. To help where we can, RPA is pleased to announce all-new advertising opportunities for members to get your company name in front of customers year-round! Multiple options are available for any budget and frequency.
Advertise in RPA's bi-monthly e-newsletter The Power of Packaging, which is distributed to all RPA member companies and contacts, totaling more than 400 retail packaging professionals.
Become an RPA Partner and your logo, linked to your website will be visible on every page of RPA's website.
Showcase your company and products on RPA's home page in an advertisement linked to your website.
Advertise in a paid social media campaign reaching RPA members and beyond. Provide us with your ad copy to help achieve your business goals.
Don't miss this great opportunity to increase your company's exposure in the retail industry and beyond. Review RPA's new advertising flyer for more details...
secure your advertising space today!
---
Renew your Company's 2022 RPA Dues Today!
| | |
| --- | --- |
| Please click the EZ-Renew button below to renew your annual RPA dues and continue to receive benefits and services all year long. If you have any questions, please contact the RPA Office at 410-940-6459. | |
---
RPA Member Discounts

Starting today, RPA is excited to announce a new partnership with Savings4Members that promises greater monthly savings for participating RPA members.
For over 30 years, Savings4Members has specialized in helping independent businesses save time and money by partnering with associations and member groups (like RPA). With their network of over 90+ member organizations, Savings4Members is capable of negotiating a better price for the services and products your business relies on every day.
---
Quarterly Industry Trends Report

The Retail Packaging Association (RPA) offers timely industry research for its members through RPA's Quarterly Trends Report. Produced in partnership with Calvello Research, the Industry Trends Report provides a quarterly snapshot of RPA member sales activity, new orders, market trends, and business forecasts, as compiled from RPA member input on a simple, quick, completely confidential online survey.
Please note that all answers are anonymous and all information supplied is averaged, with no mention of individual or company names. You can receive this report completely free of charge, simply by participating. To learn more, contact lead researcher Joe Calvello at jcalvello@calvello-research.com.
Member News
01/14/2022
Member Spotlight
Independent Printing & Packaging is a national supplier of corporate branding solutions specializing in printed presentation materials and custom e-flute & folding carton packaging.
11/04/2021
The Retail Packaging Association (RPA) is pleased to announce registration is open for the 2022 Power of Packaging Conference & Showcase. The event will take place February 16-18, 2022, at the Embassy Suites by Hilton Orlando Lake Buena Vista South in Orlando, FL.
View All News