Today at RPA

RPA's 2018 Conference: Registration Now Open!

Register today for RPA's 2018 Annual Conference & Showcase, taking place March 5-7, 2018 at the beautiful Hilton Riverside hotel in New Orleans!

---
RPA Training Manual - Updated in 2017!
RPA is pleased to unveil its newly updated 2017 Training Manual. The RPA training manual was first published in 2001 and is a valuable training asset for new and experienced retail packaging professionals. You can access the updated 2017 RPA Training Manual here and special thanks to all the retail packaging professionals who offered their expertise and insights for this project.

Content includes: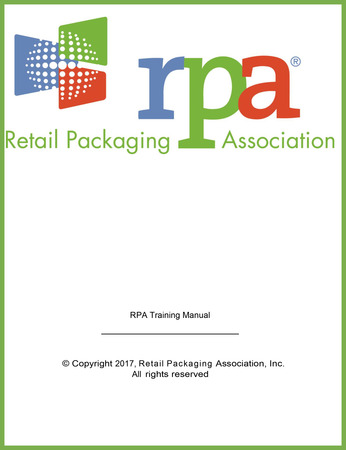 Bag Styles
Boxes
Giftwrap
Tissue
Adhesive Labels
Ribbons & Bows
Custom Printed Packaging
Printing Methods
Applications
Art Preparation
Glossary of Terms
---
Nominate Someone Today for RPA's Lifetime Achievement Award
RPA's Lifetime Achievement Award is presented annually to a RPA member who has dedicated his or her life's profession to the advancement of the retail packaging industry. Nominations are now being accepted and the recipient will be announced during RPA's 29th Annual Conference & Showcase in New Orleans!
---
Who Won RPA's 2017 Awards?
On Saturday, February 18 at the Mirage Las Vegas, RPA hosted the grand reveal of 2017's award entries, including Distributor of the Year, Supplier of the Year, New Product of the Year, and the recipient of the 2017 Lifetime Achievement Award. Want to see who won? Check out RPA's Awards page.
---
Renew your Company's 2018 RPA Dues Today!

Please click the EZ-Renew button below to renew your annual RPA dues and continue to receive benefits and services all year long. If you have any questions, please contact the RPA Office at 410-940-6459.



Member News
01/02/2018
BERWICK, PA. Berwick Offray LLC ("Berwick Offray") today filed a petition asking the United States to impose antidumping and countervailing duties on certain plastic decorative ribbons imported from the People's Republic of China.
11/07/2017
Recognized for Raising the Reels for Safety Project
The American Forest & Paper Association (AF&PA) recognized Seaman Paper Company of Massachusetss, Inc. with a 2017 AF&PA Leadership in Sustainability Award for Safety for their Raising the Reels for Safety project. The award was presented at AF&PA's annual meeting on Friday, Nov. 3 in Greensboro, Georgia.
02/10/2017
PWS, Your Bag and Packaging Source, announces significant capacity expansion to better serve East Coast and Midwest customers by officially opening up their new production and shipping facility in Portland, Tennessee on January 1, 2017. This expansion will allow PWS to take on new customers at both of their locations in California and Tennessee. Both new and existing customers will benefit from faster shipping times and lower freight costs on orders that can now ship from their new Tennessee facility.
View All News
Upcoming Events
March 5-7, 2018
Riverside Hilton New Orleans
New Orleans, LA
March 6-8, 2018
Featuring: The Four Pillars of the Sales Profession
Dayton, OH
March 11-14, 2018
JW Marriott Indianapolis
Indianapolis, IN
View All Events